Marijuana Third Or Subsequent Offense
penalties for possessing marijuana Third Offense in Iowa
If you've been charged with third offense marijuana possession, you're probably familiar with (and likely a little tired of) the next steps in the criminal process.
The third time you're convicted of possessing marijuana in Iowa (and every time after that,) the charge will be an aggravated misdemeanor -- as long as you don't have other convictions for possession of other controlled substances, tax stamp violations, or precursor violations.
If you have prior convictions but not prior possession of marijuana convictions, figuring out exactly what you're facing might be a little daunting. I made a flowchart to simplify things: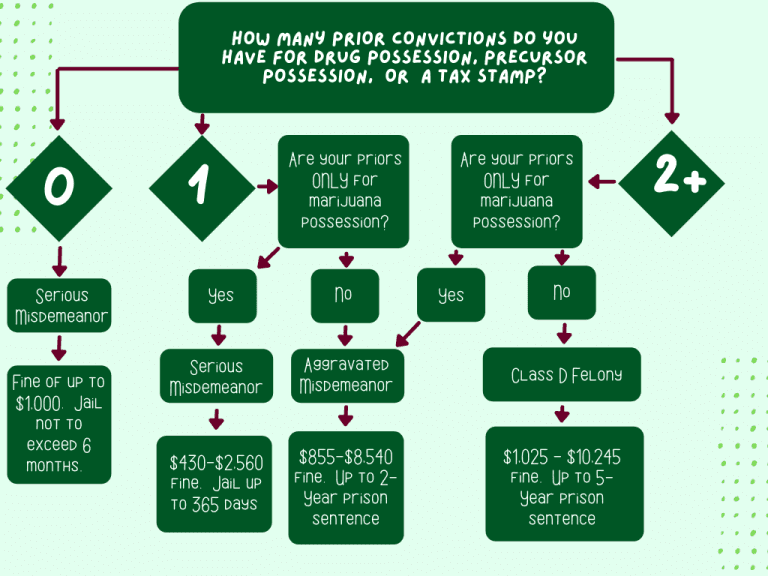 For a charge of possession of marijuana, third (or subsequent) offense, if it is charged as an aggravated misdemeanor, you're facing a fine $625 - $6250 and up to two years imprisonment.
As with all criminal fines, a 15% surcharge applies.
If you have ever been convicted of possessing another another controlled substance, violating precursor laws (Chapter 124B,) or violating tax stamp laws, (Chapter 453B,) your third offense Marijuana Possession charge will be a Class "D" felony.
If you are convicted of marijuana possession, the Court will sentence you to at least 48 hours in jail. If the sentence is suspended, the court will put you on probation. If you're placed on probation for possession of a controlled substance, you will have to submit to random drug testing.
It's possible that you will be eligible for a deferred judgment if convicted.
Iowa's Medical Cannabidiol Act - Chapter 124E
Permanent Iowa residents who are at least 18 years old can now apply for medical marijuana in Iowa. Health care practitioners sign written certifications that patients are suffering from a debilitating medical condition. The patients submit those certifications to the department of health and pay a fee of $100. (The fee is only $25 for people who are on social security disability, supplemental security insurance, or medical assistance.)
What is Cannabidiol?
For purposes of Iowa law, medical cannabidiol is any pharmaceudical grade cannabinoid -- usually THC or CBD -- found in either indica or sativa cannabis plants. Additionally, medical cannabidiol includes preparations of the cannabis plant with no more than 3% THC.
Reciprocity
If you're driving through Iowa with your valid medical marijuana card from your home state, it is entirely possible that you will find yourself arrested and your medication seized.
Under Iowa law, though, that shouldn't happen. Iowa Code 124E.18 has a reciprocity provision. Out-of-state patients with marijuana registration cards will have their marijuana cards recognized. Out of state marijuana cards don't allow you to buy medical marijuana from Iowa cannabidiol dispensaries, though.
Disqualifying Felonies
Any state or federal felony that involved possessing, using, or distributing a controlled substance will disqualify you from getting an Iowa medical marijuana card.
Paraphernalia
A defendant accused of simple possession of illegal drugs will often also be accused of possession of drug paraphernalia.
It seems like many people are willing to plead to paraphernalia with no actual showing of guilt by the government.
In order to convict you of possession of drug paraphernalia under Iowa code 124.414, the government will have to prove beyond a reasonable doubt that you materials used or attempted to be used with a controlled substance. It is significant that the statute does not prohibit possession of equipment or paraphernalia that were intended for use with a controlled substance.
If there's no residue in that bong, how will they prove that it was used with pot? If there is residue in that bong, have they proven that that residue is marijuana residue? Will the lab analyst actually show up for a paraphernalia trial?
Even if they prove that the pipe has been used with a controlled substance, can they prove that you knowingly or intentionally possessed paraphernalia? What if you had the pipe as an art piece? What if you had it intending to use it – which isn't illegal under the statute, remember? – but believing that it never had been used?
Penalties for paraphernalia aren't exactly step, particularly when compared to penalties for drug possession charges. It's a simple misdemeanor. Up to 30 days in jail and a fine of $65-$315, plus surcharges. If you're facing something like drug charges with intent to distribute, paraphernalia charges may seem negligible. Compared with felony drug possession or even with marijuana charges, paraphernalia is a tiny offense.
If all you're charged with is possession, though, there may be ways to get to reasonable doubt. If you've been arrested or served with a summons to appear by the county sheriff's office, we can help. An Iowa marijuana possession lawyer can explain the contours of Iowa's marijuana laws to you.
Charged with a crime in iowa? We can help!
Call (515) 200-2787 today for a free initial consultation.