penalties for possessing marijuana second offense in Iowa
Second offense marijuana possession in Iowa is usually an aggravated misdemeanor. Prior convictions for possession, tax stamp violations, or precursor violations change the equation.
Here is a flowchart: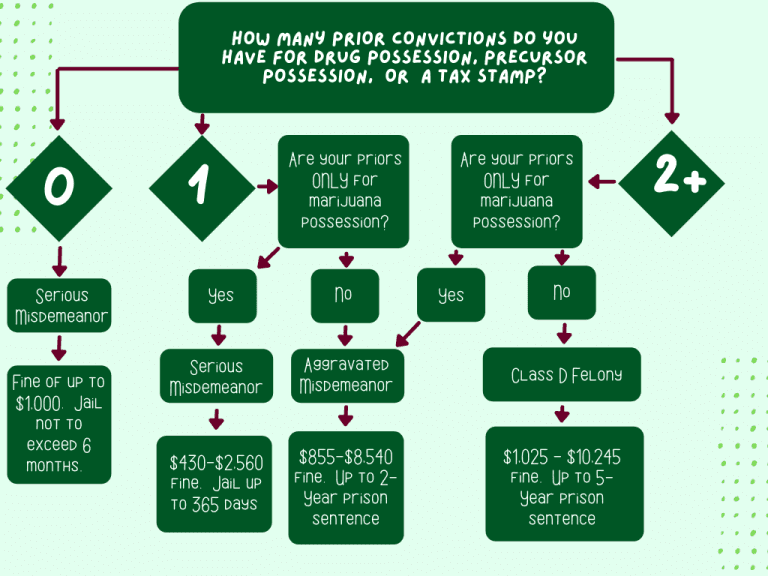 Your marijuana lawyer Iowa will help you understand your marijuana charge. A subsequent offense for drug possession may be a more serious offense. A second offense drug charge for even small amounts of marijuana could result in a prison term.
Penalties for Iowa Marijuana Possession
If this is your second time being charged with possession of a controlled substance in Iowa, was your first possession offense for marijuana? If so, and if you've never been convicted of a violation of precursor laws (Chapter 124B) or a tax stamp rule (Chapter 453B,) your charge is probably an aggravated misdemeanor. This specific type of marijuana possession aggravated misdemeanor involves fines of $315-$1,875 and up to a year in the county jail.
If you have been convicted of one possession offense before that was not a marijuana charge, your second offense marijuana charge is a regular aggravated misdemeanor. You can click here to see the penalties for aggravated misdemeanors.
If you've had a prior tax stamp or precursor conviction, you may be facing a Class "D" felony marijuana charge.
It's possible that you will be eligible for a deferred judgment if convicted.
What is Marijuana?
Most parts of cannabis plants count as marijuana. Industrial hemp is not marijuana under Iowa's cannabis law. Law enforcement cannot always readily discern between hemp and marijuana.
Anything containing marijuana or THC may be deemed illegal "marijuana." You could be charged with a drug offense for possessing cannabis oil or edibles. Even possessing CBD oil could be a marijuana crime. Iowa does not allow recreational marijuana use in any form.
Medical Marijuana and the Prescription Defense
Iowa's Medical Cannabidiol Act - Chapter 124E
Permanent Iowa residents who are at least 18 years old can now apply for medical marijuana in Iowa. Health care practitioners sign written certifications that patients are suffering from a debilitating medical condition. The patients submit those certifications to the department of health and pay a fee of $100. (The fee is only $25 for people who are on social security disability, supplemental security insurance, or medical assistance.)
What is Cannabidiol?
For purposes of Iowa law, medical cannabidiol is any pharmaceudical grade cannabinoid -- usually THC or CBD -- found in either indica or sativa cannabis plants. Additionally, medical cannabidiol includes preparations of the cannabis plant with no more than 3% THC.
Reciprocity
If you're driving through Iowa with your valid medical cannabidiol card from your home state, it is entirely possible that you will find yourself arrested and your medication seized.
Under Iowa law, though, that shouldn't happen. Iowa Code 124E.18 has a reciprocity provision. Out-of-state patients with medical cannabidiol registration cards should have their cannabidiol cards recognized. Out of state cannabidiol cards don't allow you to buy medical marijuana from Iowa cannabidiol dispensaries, though.
Some counties have not recognized reciprocity for other states' medical marijuana cards. When patients' medication is marijuana, rather than cannabidiol, Iowa has charged those patients with illegal possession of a controlled substance.
Disqualifying Felonies
Any state or federal felony that involved possessing, using, or distributing a controlled substance will disqualify you from getting an Iowa medical marijuana card.
Prescription Defense
It is illegal to have a controlled substance in Iowa. There is an exception. Valid prescriptions and doctors orders exempt patients from prosecution.
The problem is that neither Iowa law nor federal law specifically allows for medical cannabis. Marijuana is a Schedule I substance. The government does not recognize any valid medical use for marijuana. Obviously, many medical practitioners disagree. Marijuana is widely prescribed in many states. For example, Illinois implemented their Medical Cannabis Patient Registry Program in 2021.
Under the controlled substances act, prescriptions require valid medical purposes. What happens when one state recognizes marijuana's medical applications but another state does not? How does the federal government's opinion affect this? Some states, such as Arizona, suggest that federal law does not preempt states' medical marijuana programs. They reason that the CSA requires a medical purpose. While federal law does not recognize a medical purpose for marijuana, those states' laws do. Patients in these states may use their medical marijuana cards to purchase medication at a licensed dispensary.
Warren County's Selective Recognition of the Prescription Defense
Hopefully, Iowa's appellate courts will overturn out-of-state patients' medical marijuana convictions. Marijuana patients should not be accused of drug crime. Punishing patients who are in pain does not improve public safety. It does not reduce violent crime. It does not further the goals of criminal law. We will have to wait and see whether or not Iowa's appellate courts do the right thing.
Marijuana Search and Seizure
Did law enforcement get a warrant? Did they search you? How about your home or your car? Your criminal defense attorney will review any search. If a magistrate signed a warrant without probable cause, your criminal defense lawyer may be able to get the evidence suppressed.
Elements at Trial
The State of Iowa bears the burden of proving you guilty of your possession charge. You cannot receive a marijuana conviction at trial unless the State proves all elements of the offense. Ask your lawyer about reasonable doubt. If the police serve you a summons to appear, a criminal defense lawyer can help. Ask an Iowa marijuana possession lawyer to explain Iowa's marijuana laws to you.
Possession
The government must prove that you possessed a controlled substance. Simple possession is not always so simple.
The government can prove unlawful possession in one of two ways. First, they could prove actual possession. In order to prove actual possession, the prosecutor would have to present evidence that you had the marijuana on your person.
Alternatively, they could prove constructive possession. Relevant factors to constructive possession include: incriminating statements, incriminating actions, your fingerprints on drug packages, other circumstances linking you to the drugs. See State v. Kemp, 688 N.W.2d 785, 789 (Iowa 2004) (citing State v. Cashen, 666 N.W.2d 566, 571 (Iowa 2003)).
Either constructive or actual possession could lead to a misdemeanor possession conviction.
Knowledge
Criminal possession requires proof of knowledge. For the marijuana offense to stick, the prosecution must show that you knew about the drugs. They have to show that you occupied and controlled the premises.
A marijuana possession charge also requires you to know what the substance is. Marijuana law does not punish you for marijuana that you honestly believed was just a horse chestnut plant.
Identity of the Substance
Previously, the DCI laboratory could not tell the difference between illegal marijuana and legal hemp. This is because their test could not quantify now much THC was in plant material. (To "quantify" something means to measure how much of it there is.)
Now, the lab uses liquid chromatography and mass spectrometry to quantify the THC in plant material. That means that some machines in the DCI lab can now tell marijuana and hemp apart.
They do not have to use a test to prove that something is marijuana. However, the lack of a test could lead to unreliable results. For instance, police have previously raided houses based on the smell of marijuana, only to find out that no marijuana was present! Sometimes, things like moss phlox, skunk, or hops can be mistaken for the smell of marijuana.
Additional Relevant Charges
Felony Possession
Possessing a large amount of marijuana or a marijuana plant usually leads to a felony drug possession charge. A class D felony charge is punishable by up to 5 years in prison. A Class C felony charge is punishable by up to 10 years.
Paraphernalia
The government may also accuse you of possessing drug paraphernalia.
Penalties for paraphernalia aren't exactly steep. Paraphernalia is a simple misdemeanor. If you're facing something like drug charges with intent to distribute, paraphernalia charges may seem negligible. The government still must prove guilt.
Charged with a crime in iowa? We can help!
Call (515) 200-2787 today for a free initial consultation.